Panchakarma Treatments (Panchakarma Chikitsa)
Panchakarma is a Sanskrit word that means "five actions" or "five treatments". This is a process used to clean the body of toxic materials left by disease and poor nutrition and also has different therapeutic roles in number of disease. Normally the body has the innate ability to efficiently process and remove these waste materials, including the vitiated doshas. However due to one's repeated dietary indiscretions, poor exercise patterns, lifestyle, and genetic predisposition the digestive enzymes, metabolic co-factors, hormones, and agnis which regulate the body's internal homeostasis become disorganized. This can lead to the accumulation and spread of toxins throughout the physiology resulting in disease. This waste matter is called ama in Ayurveda. Ama is a foul-smelling, sticky, harmful substance that needs to be completely evacuated from the body.

Panchakarma will remove the excess doshas and correct imbalances in them as well as eliminate the harmful ama out of your system through the body's own organs and channels of elimination (colon, sweat glands, lungs, bladder, urinary tract, stomach, intestines, etc). Panchakarma purifies the tissues at a very deep level. It involves daily massages and oil baths and is a very pleasurable experience. Ayurveda recommends Panchakarma as a seasonal treatment for maintaining mental and physical hygiene and balance.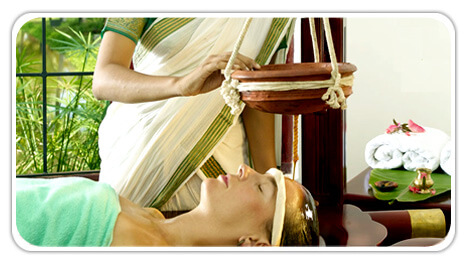 Panchakarma is a five-fold therapy; it is highly individualized based on the needs of the individual depending on the Ayurvedic constitutional type, doshic imbalances, age, digestive strength, immune status, and many other factors. Depending on each individual's needs all or only one of the five therapies are utilized. These procedures must be administered by specially trained therapists in a definite sequence for a specified period of time. In addition, although Panchakarma is for the most part a delightful and comfortable therapy, there can be periods of discomfort associated with the profound release of toxins which does occur. It is therefore essential that the therapy be supervised by a knowledgeable expert who can recognize the signs of properly and improperly administered Panchakarma. Fortunately these signs were meticulously recorded by the ancient vaidyas.

Like all medical procedures, Panchakarma Therapy always must begin with an initial consultation by a qualified Ayurvedic doctor who can determine the individual's prakriti (constitutional type), the nature of the health problem (if any), and the appropriate degree of intensity of the prescribed therapies. There are certain special circumstances in which panchakarma should be administered only with strict medical supervision: recovering drug addiction, alcoholism, hypertension, diabetes, Asthma, Arthritis and eating disorders are the most common.
---
The Panchakarma Process:
Panchakarma treatments are divided into three phases of detoxifications:
Purvakarma is a preparation for cleansing
Pradhankarma or Main course of Panchakarma consists of five cleansing procedures
Pashchatkarma, or after care, are therapies applied after cleansing


A) Purvakarma: Consists of the following steps:
1. Snehan (oleation therapy):
Internal snehan: medicated oils and ghee (clarified butter) are used. These help eliminate impurities so that elimination becomes easier. External snehan: consists of different kinds of massage using medicated oils.
2. Swedan (sweating):
Sweating is done shortly after the massage. This is normally done in a sweat box.
The purvakarma procedures are often under appreciated in the grand scheme of proper administration of Panchakarma.The general purpose of the Poorvakarma Therapies is to begin to loosen, liquefy, and move the vitiated doshas from their abnormal sites in peripheral tissues to the appropriate central site within the alimentary canal.
B) Pradhan Karma: The main course consist of five process as follows: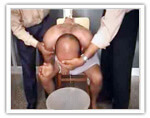 1. Vamana (use of emetics):
Artificial vomiting is induced using herbs. It is usually indicated for people with 'Kapha' (phlegm) disorders.

2. Virechan (use of laxatives): Different purgatives are used depending upon a person's constitution and disease. It is normally used to eliminate excessive Pitta (fire) from its site in the small intestines.
3. Basti: A colon irrigation procedure to first cleanse the colon (Niruh Basti), and then restore (Asthapan) the function of colon with medicated enemas.

4. Nasya (Nasal administration): Medicinal oils or herbal mixtures are inhaled or used as drops (mixed with oils or ghee) to clear the congestion in the sinuses. It is also good for balancing the prana (air) in vata.
5. Rakta Mokshana (bloodletting):We recommend blood donations. Researchers at the Kansas University Medical Center in Kansas City have found that non-smoking men who donated blood had a 30% reduced risk for cardiovascular events such as heart attack, bypass, and stroke than non-donors. (The British Medical Journal, March 15, 1997 Volume 314, 793-794).