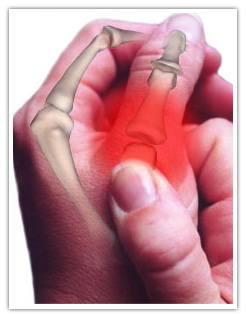 • Osteoarthities
Many people use the word "arthritis" without knowing the meaning. Arthritis is really not a single disease. There are over 100 different kinds of arthritis, all of which affect one or more joints in the body. The word arthritis comes from two greek words, arth meaning "joint" and itis, meaning "inflammation". Thus arthritis is "inflammation of a joint", which is somewhat misleading because in many kinds of arthritis the joint is not inflamed or swollen. The pain however may be nagging. Or at its worst, it can be physically and mentally crippling.

Osteotomy. This literally means 'the cutting of a bone'. This method is used to change the angle at which the bones forming the joint meet. It is used in younger patients with OA affecting only one half of the knee. The operation shifts the body weight onto the better half of the joint thereby relieving pain. However, relief is for a variable period of time depending on the state of the other half of the joint and how soon it begins to wears out.

Osteoarthritis is the commonest form of arthritis or joint disease and is a very important cause of pain and disability in advancing years of life. Some degree of osteoarthritis will develop in everyone in old age and it is estimated that three out of four persons of more than 60 years of age will have definite evidence of osteoarthritis in at least one joint, and one out of ten persons beyond the age of 60 years will have sufficiently advanced disease and have so much trouble that medical advise will be sought. In the next two decades the proportion of aged in population is going to increase steadily and so will increase in the incidence of osteoarthritis and with a commensurate increase in the cost of treatment of this most common joint disease. The natural history of osteoarthritis is variable and joint specific. Osteoarthritis may remain stable or static for many years, or be progressive, or may have periods of waxing and warning of symptoms. Osteoarthritis has no effect on longevity of persons affected with this disease, but can be quite debilitating in terms of limiting activities and diminishing overall quality of life.

Osteoarthritis is one of the oldest and most common forms of arthritis. Known as the "wear-and-tear" kind of arthritis, OA is a chronic condition characterized by the breakdown of the joint's cartilage. Cartilage is the part of the joint that cushions the ends of the bones and allows easy movement of joints. The breakdown of cartilage causes the bones to rub against each other, causing stiffness, pain and loss of movement in the joint
The stages of osteoarthritis
Cartilage loses elasticity and is more easily damaged by injury or use. The joint lining, or the synovium, becomes inflamed due to cartilage breakdown causing cytokines (inflammation proteins) and enzymes that damage cartilage further Bits of bone or cartilage float loosely in the joint space.
Ayurvedic treatment for Osteoarthritis includeunique formulations from herbs and minerals that are given to patients following supportive directions to combat this problems permanently.
Move at least for 30 minutes daily.
Eat Black Gram cereals at least once in a week.
Don't consume extra calcium food stuff, like eggs and cheese daily. It is least helpful for your bones
Avoid eating dry and cold food items.
Apply the Ayusua Massage oils once in a week on your joints to protect your joints and if you are suffering with the disease, then apply these oils daily.
If you have go through this crisis and felt frustrated for a long period come to our clinic and visit our doctors and for a permanent side effect free treatment through proper ayurvedic medications and lifestyle management so do contact us.
• Osteoporosis


Osteoporosis is a condition of decrease in the density of bone, decreasing its strength and resulting in fragile bones. Osteoporosis literally leads to abnormally porous bone that is compressible, like a sponge. This disorder of the skeleton weakens the bone and results in a frequent fractures (breaks) in the bones. Normal bone is composed of protein, collagen, and calcium all of which give bone its strength. Bones that are affected by osteoporosis can break (fracture) with relatively minor injury that normally would not cause a bone to fracture. The fracture can be either in form of cracking (as in a hip fracture) or collapsing (as in a compression fracture of the vertebrae of the spine). The spine, hips, ribs, and wrists are common areas of bone fractures from osteoporosis although osteoporosis related fractures can occur in almost any skeletal bone.
Symptoms of osteoporosis
Osteoporosis can also be present without any symptoms for decades because osteoporosis doesn't cause symptoms until bone fractures. Moreover, some osteoporotic fractures may escape detection for years when they do not cause symptoms. Therefore, patients may not be aware of their osteoporosis until they suffer a painful fracture. The symptom associated with osteoporotic fractures usually is pain; the location of the pain depends on the location of the fracture. Fractures of the spine (vertebra) can cause severe "band-like" pain that radiates from the back to the sides of the body. Over the years, repeated spinal fractures can lead to chronic lower back pain as well as loss of height or curving of the spine due to collapse of the vertebrae. The collapse gives individuals a hunched-back appearance of the upper back, often called a "dowager hump" because it commonly is seen in elderly women. 

Osteoporosis in the vertebrae can cause serious problems for women. A fracture in this area occurs from day-to-day activities like climbing stairs, lifting objects, or bending forward.
Types of Osteoporosis
The most common cause of osteoporosis is age. The older you get, the more bone loss you are likely to have, especially if you don't take in enough calcium.

As one gets older, the bones start becoming weaker to some extent. This is a natural occurrence and is quite common in today's elderly people. But in few cases, the bones become so weak and fragile that fractures occur. They can cracks and often break under their own body weight. In such cases, the people are suffering from a disease called Osteoporosis. This means the bones become so weak that small tiny pores are formed and they begin to erode more than necessary. The mineral density is reduced in the bones and this result in low bone mass and hence thinning of the bones occurs. Osteoporosis must be detected as early as possible and must be prevented in order to avoid further degradation of the bones. It generally occurs in the areas of hips, spines, knees and elbows. There are many treatments available to increase the bone mass density and to make them stronger. But most of the people today choose the natural method of treating the weakened bones and also prevent it from thinning further. Natural treatments to prevent Osteoporosis can be started at any point of time in the life and there is no need for one to wait in order to detect if he/she is suffering from this disease. There are many natural ways available to prevent the thinning of the bones. Regular exercise which involves strong movement of the legs and hands keeps the bones strong and fit. This increases the mineral density in the bones and would be highly beneficial when aging occurs. It helps the people avoid cracking their bones when they grow older. The types of exercises, intensity and frequency and duration of such exercises can be known from any doctor taking the suggestions and few precautions that might be involved.

Physicians of Ayusya  Clinic  treated this patients with unique formulations from herbs and minerals and given patients following supportive directions to combat this problems  reasonably.
Diet is of utmost importance in the treatment of osteoporosis.
Dairy products are good to have while suffering from osteoporosis.
Avoid meat in the diet. This is to be replaced by the green leafy vegetables. This will prevent bones being hollow.
Dandelion tea is also said to be good for osteoporosis.
Almond milk is also good product to treat osteoporosis.