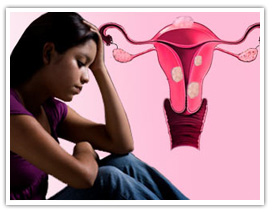 Menorrhagia is a form of excessive vaginal bleeding in which heavy and prolong bleeding occurs at regular intervals during menstruation. Menorrahagia can be a serious cause of concern for the woman who suffers from it. Menorrahagia can severely affect women physically, mentally and socially.
The heavy and prolong bleeding can make woman anaemic that can produce other complications.

Causes of Menorrhagia:

Menorrhagia can be occurred due to several reasons like Hormonal imbalance, Uterine fibroid tumour, Cervical Polyps, Endometrial Polyps, Pelvic Inflammation Disease, Anovualtion (during the fertility period), Dysfunctional Uterine Bleeding, Irregular shedding of the uterine lining, Abortion, Miscarriage, Endometrial Carcinoma (cancer), Cervical Carcinoma (Cervical Cancer), Coagulation Defects, Pregnancy Complications, Intrauterine devices, Hypothyrodism, and Certain Drugs etc..

Sign and Symptoms of Menorrhagia:

The excessive bleeding with or without pain is the general symptoms of menorrhagia while other symptoms include blood clot discharge, bleeding during or after urination, abdomen cramp, giddiness, headache, backache, numbness sensation in hands and foot muscles, depression, and irritation etc.

Ashoka(Saraca indica) and lodhra (Symplocos racemosa) are popularly used in ayurveda for the treatment of menorrhagia by the ayurveda physicians. These drug can be used in the form of powder. The powder of the bark of these herbs are used singly or in compound form in a dose of one teaspoonful three to four times a day with cold water. The preparation of these herbs available and most commonly used are ashokaristha and lodhrasava. These are the two ayurveda preparations mainly used for the gynaecological problem. These are the alcoholic preparations so they must be used with caution in patient with gastritis. These are given in a dose of  one ounce twice daily after food after mixing with equal amount of water. 

The leaves of pomegranate are also used for the treatment of menorrhagia. The paste of seven leaves of pomegranate mixing with 7 grains of rice can be taken for the period of one month. This works both as a preventive as well as curative medicine.

There are some minerals used in ayurveda for the treatment of menorrhagia. Pravala(coral) and mukta(pearl) are used in acute attacks of this disease. They are given in the form of powder form which is known as pisti. One grain of the powder of this drug is given to the patient four times a day.