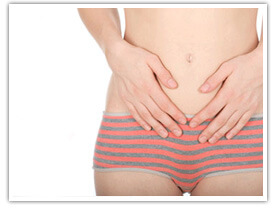 Leucorrhoea means a whitish discharge from the female genitals. It is an abnormal condition of the reproductive organs of women. It is a discharge from the female genital tract which is often associated with infection of the genital tract by some organism. It does not develop suddenly in an acute problem. In pregnancy it is a normal phenomenon and in it is also common in girls of age of puberty.
According Ayurveda, Leucorrhoea is caused by the aggravation or vitiation of kapha dosha. In weak and anemic women it commonly occurs. Some metabolic and hormonal disturbances are also responsible for Leucorrhoea. It produces irritation and it is often associated with digestive disturbances. "Nidanam parivarjanam" that means we have to cure the cause of the disease. Whenever the body is full of toxins due to wrong dietary habits and the eliminative organs such as skin, bowels, lungs and kidneys are unable to eliminate the toxins, the body produces a profuse discharge or elimination through the mucous membrane of the uterus and vagina in the form of leucorrhoea. In the case of advanced, chronic inflammatory conditions of these organs, it leads to a discharge with pus, offensive in odor and color varying from cream to yellow or light green. These symptoms often are made worse by sexual intercourse.
Causes for Leucorrhoea :
Hormonal disturbance
Improper hygiene
Indigestion
Constipation
Anemia
Diabetes
Intestinal worms
Wound created by itching
Symptoms of Leucorrhoea:
White discharge from vagina
Weakness
Lethargy
Pain in the lumber region & calves
Dragging sensation in the abdomen
Constipation
Frequent headaches
Following guide lines should be maintain:
There should be no fasting.
Use cold water compress or cool baths for decreasing itching.
Wash the vaginal and genital area once a day with plain water or a mild, non perfumed soap.
Rinse well and dry thoroughly.
Wear cotton and avoid tight-fitting clothing.
Avoid tight jeans.
Avoid the use of feminine deodorant sprays and other perfumed products.
Avoid douching.
Eat a balanced diet, which will help keep your body healthy and help maintain a normal balance of organisms in the vagina.
Morning walk is very helpful in this case.
Doctors of Ayusya Clinic have treated patients of leucorrhoea by proper and unique medications and the upper written guide lines. Patients achieve best result by our treatment within 1 to 2 months .