Inflammation of Sinus gland is known as sinusitis. In this, inflammation of nose and mucous membrane of the nose replaces the air of the sinus into mucosal hypertrophy
Symptoms of Sinusitis:

Recurrent common cold is the first stage of these disease followed by below symptoms
Excessive or constant sneezing.
Running Nose.
Blockage of Nostrils.
Headache usually felt in forehead and just below the eyes.
Heaviness on bending the head.
Low-grade fever.
Lack of appetite.
Difficulty in breathing.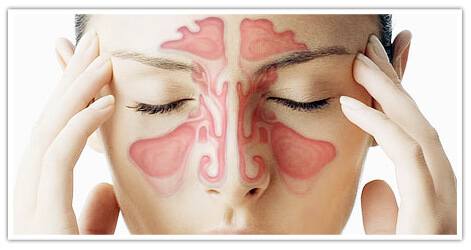 The Root Causes of Sinusitis
Following are the general types of imbalances at the source of most chronic conditions including sinusitis:
Toxins accumulating in tissues and blocking circulation.
Poor nutrition
Poor digestion
Imbalance of the nervous system
Accumulation of physical and mental stress
Lowering of natural resistance and immunity
Disruption of natural biological rhythms
Sinusitis typically follows an upper respiratory infection (for example, the common cold) or an allergic reaction (like hay fever, also called allergic rhinitis). These can cause inflammation and swelling that prevents the sinuses from draining properly. This makes the sinuses a great place for organisms like bacteria, viruses, and fungus to live and grow rapidly. Other common causes for sinusitis include the following:
Allergies (hay fever, tobacco ,dry air, pollutants) . Changes in atmospheric pressure (for example, from swimming or climbing high altitudes) Infections from dental problems. Disease or an abnormal structure in the sinus area (such as nasal polyps, deviated septum, or nasal bone spur) Physical injury to the sinuses Bacteria, viruses, and fungi Poorly treated recurrent cases of sinusitis can cause chronic sinusitis.
Doctors of Ayusya clinic prescribe unique formulations of herbs and minerals for treatment of this disease. They also give following directions for the best recovery of the patients:
Drinking warm vegetable juices is also one of the best cures for sinusitis.
Drinking carrot juice is also useful in the treatment of sinusitis.
Avoid white sugar; cakes, pies, rice, white floor and candies
Steam inhalation is sure shot remedy of everyone's choice.
Honey with Tulsi combination is the best home therapy.
Honey with Ginger juice can be taken 3-4 times in a day.
Powdered black peeper with milk acts as a herbal antibiotic