Frigidity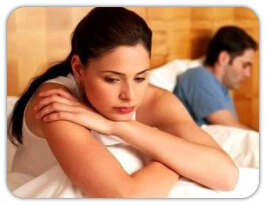 The term frigidity is generally used to describe a long term lack of sexual drive and response. It can affect both sexes but it is more usually applied to woman.

Anxiety about performance is a major turn off when it comes to sex. Nearly everyone has occasional worries, but these become exaggerated when one places too much emphasis on the physical, as opposed to the emotional side of lovemaking.

Conflict within the relationship is another important factor. If a couple always arguing or one partner is resentful of the other, it can lead to problems in bed.

A serious lack of response is indicated when one continuously avoids love making or cannot enjoy it even through the partner is sexually attractive.