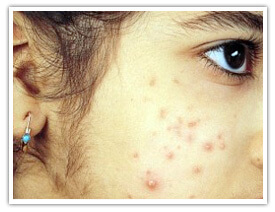 Acne is the term for plugged pores (blackheads and whiteheads), pimples, and even deeper lumps (cysts or nodules) that occur on the face, neck, chest, back, shoulders and even the upper arms. Acne affects most teenagers to some extent. However, the disease is not restricted to any age group; adults in their 20s - even into their 40s - can get acne. While not a life threatening condition, acne can be upsetting and disfiguring. When severe, acne can lead to serious and permanent scarring. It is not caused by bacteria, although bacteria play a role in its development. It is not unusual for some women to develop acne in their mid- to late-20s.
Acne appears on the skin as...
congested pores ("comedones"), also known as blackheads or  whiteheads,
tender red bumps also known as pimples or zits,
pustules, and occasionally as
You can do a lot to treat your acne using products available at a drugstore or cosmetic counter that do not require a prescription. However, for tougher cases of acne, you should consult a physician for treatment options.


• Whiteheads:

Result when a pore is completely blocked, trapping sebum (oil), bacteria, and dead skin cells, causing a white appearance on the surface. These types of acne lesions sometimes seem to be begging to be popped. Care must be taken if the pimples are squeezed, to avoid damaging both the skin and underlying tissue. Always make certain, your hands and face are clean and use gauze or tissues to gently apply pressure to a white head near the surface of the skin. Whiteheads will normally respond to treatment faster than blackheads.



• Blackheads:
Develop when a pore is only partially blocked, allowing some of the trapped sebum, bacteria, and dead skin cells to slowly drain to the surface of the skin. The black color is not caused by dirt but rather it is due to the skin's own pigment, (melanin) reacting with the oxygen in the air. A blackhead tends to be non-inflammatory and stable often taking a long time to clear.




• Papules:
are small, red, tender bumps with no head. Sometimes papules are referred to as "blind pimples". Do not squeeze a papule since it will only exacerbate the condition and lead to tissue damage and possible scarring.

• Nodules:
represent a severe form of acne vulgaris. Nodular acne consists of pimples which are much larger (larger than papules), can be quite painful and can last for months. Nodules appear as large, hard bumps under the skin's surface. Absolutely do not attempt to squeeze such a lesion; doing so may cause severe damage to the underlying skin and the lesion may last for months longer than it normally would. Scarring is common; therefore care must be taken when treating nodular acne.
• Cysts:
Cystic acne is also considered one of the most severe forms of acne-vulgaris. Cystic acne can appear similar to a nodule in size, but is pus-filled, and routinely have a diameter of 5mm or more across. Cysts originate deeper in the skin than typical pimples. These inflammatory lesions can be painful and commonly produce scarring. Treatment of existing cystic acne followed by prevention of future acne is therefore necessary to avoid scar formations and to help healing of those acne scars that have already developed. Opposite to a common belief squeezing an acne cyst may cause an even deeper infection and more painful inflammation spreading under the surface of the skin which will last much longer and lead to the development of additional cysts.

Cystic Acne most often occurs during the adolescent as a most severe manifestation of Teen Acne. In addition, Cystic Acne may also affect adults as a part of Adult Acne and hormonal acne or even Body Acne.

Physicians of Ayusya Clinic treated these patients with unique formulations from herbs and minerals and given patients following supportive directions to combat this problems permanently
should eat only when earlier food is digested.
Avoid hot (ushna), spicy, oily, fried and pungent food.
Always try to avoid junk food, fast food and outside food.
Take sufficient amount of water, liquid juice etc., which will reduce dryness of intestine and will drain out wastes from your blood through urine. Take Fruits and their juices like grapes, lemon etc.
Correction of diet and regular exercise is necessary to regain regular bowel habits.