Ayusya Clinic has received many excellent reviews over the years. You can find them from clicking here.We really appreciate your comments, feedback and testimonials of our Ayurvedic Treatments.
Treatment for M.S. Arora has been given. Very happy with the therapist, Dr.S and front staff and assistance. Now God helps her for better results.
After information from newspaper I decided that Ayusya Clinic is perfect for this treatment. I took appointment and stared my treatment in the A|H| clinic. After one week I feel so better. And after two weeks I am feeling so much better than before. And today I am feeling 75% cured by the treatment of Ayusya Howrah clinic. Very fine dealings of doctor and staff. Also the therapist is very good. Good service with good behaviour.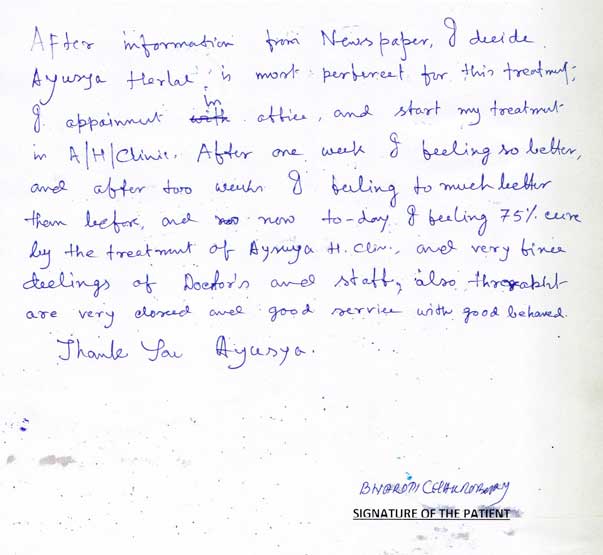 This therapy is good. My right leg is comfortable but left leg is not comfortable. If therapy is continued for another 10 days I feel my legs will be comfortable.
The therapy given were good.
The main purpose for which I turned up still to recover the white patches.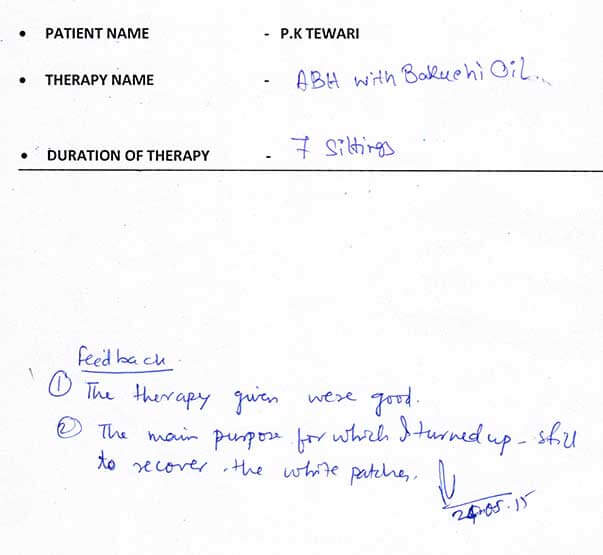 I have found out that the staff is very cooperative and helpful. They are very panctual too. The therapists are very good and know their job well. Overall the therapies are carried very effectively.
The procedure and time of therapy is easy and comfortable but comperatively, is average. If it works after the completion of medicines i.e. more than 15 days, till 17.5.15 then only it will be good.
As per reference of doctor A. Gupta the period of therapy is enough as per my criteria, that is he told it will be effective after this time period. Then I think Ayusya will be one of the well known clinics in India. Hence the therapy is average as on date.
All therapies were superb. I am happy. Thank you.
I was suffering from knee pain for about 1 year after which I came to this centre. I am quite fine now. Therapies are good and the staff are cooperative. During this treatment, I am satisfied.
Would like to give a feedback about your therapist Ms. Shipra. For a clinic like this therapist is an asset and she is an asset to your clinic.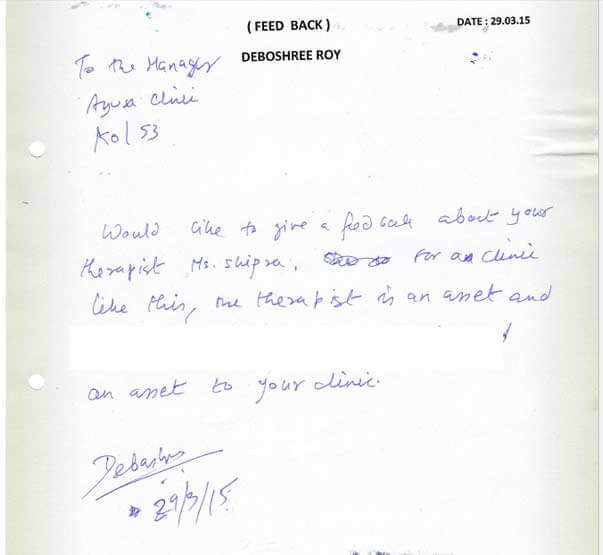 The two boys worked very hard for my treatment. They were very keen to satisfy me with the treatment. The staff in the front reception are very friendly and helpful.
I have taken 10 X tension. It was good to be healed a lot during the therapy. However changing to my hectic lifestyle for 10 days in between, it again relapsed. Thanks everyone.
Feeling better from previous position. This therapy would give me a proper solution from pain. But it was much more better than the previous one.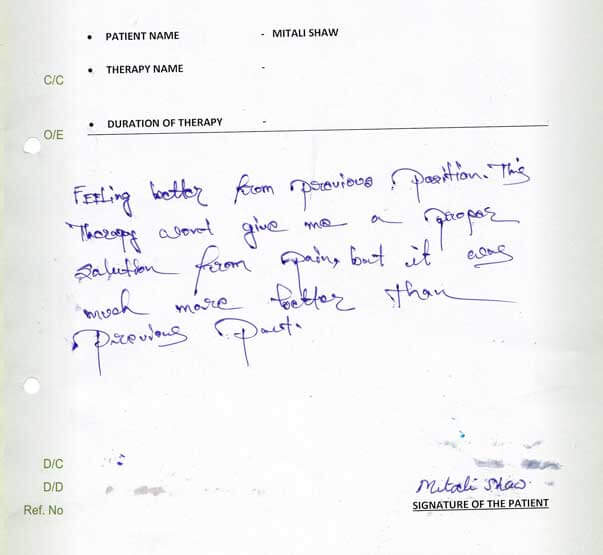 I felt good after each therapy. But the rates have to come down for more people to come and take advantage of ancient treatment. The people are professional.
This treatment is very essential for everybody. Today I feel very happy because I was very hopeless when I felt that perhaps I will not be able to move in my very old age. But now I got my hope back after completion of 35 days therapy with medicine.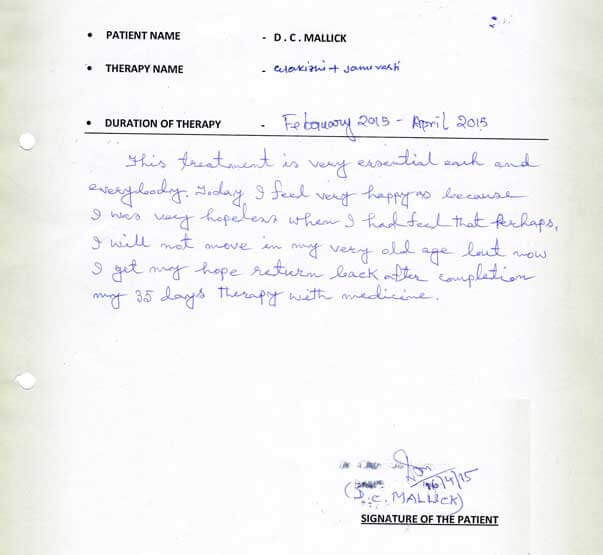 The treatment and the service was excellent. Keep up the good work and God Bless.